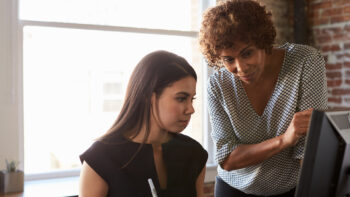 In a business, mentors are beneficial for new hires and longstanding employees alike. Moreover, mentors in a business setting promote a more cohesive and empowered workplace culture. You do not even need to look outside of your business to start finding the mentors your company may need.
Some employees have specialized skills such as tech-savviness or a knowledge of accounting that they can pass along to others.
When implementing a mentorship program in the workplace, it is important to follow certain key guidelines. For instance, you should take care to match the right mentors with their respective mentees. Make your mentoring program an integrated part of your company structure.
Related Article: How Mentoring Will Make an Impact in the 2019 Workplace
When establishing your new mentorship program, be clear about the roles, relationships and responsibilities employees should have. Additionally, encourage conversations focused on setting and accomplishing goals. Finally, make sure your staff members understand the value of participating in the company's mentoring program.
The History of Mentoring
Mentoring has an enduring history. The practice has been used over the centuries to help people, businesses and societies at large.
The term "mentoring" was first found in ancient Greek mythology with the character of Mentor in Homer's "Odyssey." Odysseus depends on this character to oversee his home and educate his son while he is overseas fighting the Trojan War.
Since then, mentors have been critical to the work of scholars like Plato and Socrates, artists like Beethoven and Hayden and scientists like Jung and Freud. In the world of business, individuals like Sergey Brin, Larry Page, Steve Jobs and Richard Branson can all attribute their success in part to excellent mentors.
Your average employee may not find or use a mentor independently. However, by bringing mentorship into your business setting you can demonstrate to all your staff what the benefits of mentorship are, ultimately improving your business.
Mentorship Makes Onboarding New Employees Easier
It can be challenging for managers to integrate newly hired employees into the existing machinations of a workplace. Mentoring in the workplace setting can help companies to more seamlessly bring new employees into the business.
For instance, you can set up a program that each new hire goes through. To ensure new hires get the most benefit possible, provide different mentors with different areas of expertise to guide them through the essential workplace matters and functions.
You may also benefit from putting existing employees through the program. This can help current staff members refine their skills or fill in any gaps that may have been overlooked. A mentorship program for everyone can help increase versatility and develop vital skills within the workplace.
Mentorships Improves Staff Performance
According to a survey conducted by Accountemps, 93 percent of respondents counted goal setting as vital to their job performance. Mentorship can help employees know how to set and accomplish goals effectively.
An employee who feels accomplished is a happy worker, and happy workers are productive workers. However, a mentorship program does not only help workers perform their jobs better. It can also help:
Additionally, employees who take on mentoring roles develop greater leadership skills, enabling them to take on more responsibility and move up in the company. This can help you prepare in the event of a staff retirement. It can also help you expand your company by assigning leadership roles to more individuals.
Mentorship Can Change the Workplace Culture
Introducing a mentorship program to your business can foster an open culture of education and communication. This can help employees feel welcome and willing to contribute new ideas to the company.
A mentorship program can empower your staff members to offer their suggestions for making improvements in the business that they might have been reluctant to share before. This is because they can receive reassurance from a more senior member of the company regarding whether an idea is helpful and original. An open culture of communication can improve quality and production in your company.
Both mentees and mentors build and develop better working relationships by participating in a mentorship program. The mentee receives reassurance and guidance. The mentor can reinforce lessons he or she already knows and gain a sense of self-respect. This can both increase employee satisfaction and improve the company culture overall.
Mentorship Sets Your Company Up for Success
Whether for a new-hire or a long-term employee, an individual or the whole corporate culture, mentorship provides certain pervasive benefits to all in the company. This in turn benefits the company's success in the marketplace.
Some of the key ways mentorship can benefit your business include:
Advice – People with less experience in a subject for which they hold some degree of accountability can improve their performance by seeking advice from those with more experience.
Perspective – Mentorship can provide newer employees with additional perspective to consider when making decisions about what actions to take.
Skill improvement – Mentors can help provide mentees with new skills and solutions to improve their performance.
Networking – Mentees benefit from the network of connections and contacts their mentors have made over the years. This can enable mentees to build out their own networks.
Strategies and Methods – Mentors can help businesses optimize their practices by suggesting new strategies and methods for dealing with certain recurring tasks or issues.
How to Create a Successful Program
To create a successful and effective mentorship program in your business, consider two key factors: degree of mentor involvement and mentorship structure.
The degree of a mentor's involvement with a mentee could vary from everyday interactions to monthly check-ins. In most programs, the mentor and mentee themselves determine what level of involvement is best.
As for the mentorship structure, you should decide how formal or informal you want these relationships to be. Are they highly organized, with scheduled meetings and agendas? Alternatively, are they informal, with casual phone calls and emails made as needed?
Online mentoring, or e-mentoring, can provide a blend of the two. In this type of mentorship, mentors and mentees communicate primarily through the internet. This is beneficial for incorporating off-site mentors into the program.
Related Article: Career Development Resources
By Admin –