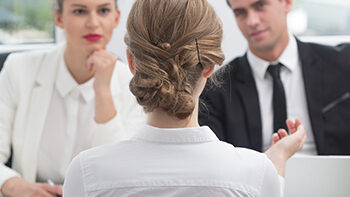 Interview questions will vary based on industry, job role and the type of company or organization where you are applying to work. We have all heard of the brainteaser-style interview questions asked by booming companies like Google, but those are not so common at most companies. The more typical questions are designed so that the interviewer can try to learn more about you beyond what was included on your resume or cover letter.
By answering these common questions, you will have a chance to further explain any inconsistencies or issues with your work history and to highlight your best attributes that directly apply to the role you are applying for.
While the best answers will vary based on the specific job you are applying for and the type of company you want to work with, you can generally look at the common interview questions below and answer them with more specific detail catered to your situation. Remember to always bring the answers back to how you can help the company and how your experience fits the job description. And always be honest. At the end of the day, you and the company both want the best match possible to make sure that everyone is happy.
Questions About You
Open-ended questions that allow you to describe yourself and your work are very common in interviews at any level and in any industry. The interviewer wants to get to know you and understand how you might fit into the open position and the company in general. Some of the most common versions of these questions include the following:
Tell me about yourself? This is your chance to shine, so do not be intimidated. Have your personal and professional story sorted out before you arrive so you feel confident delivering this sales pitch. Be concise and stick to the main points that highlight your abilities and skills set.
What are your strengths/weaknesses? These should both be prepared in advance so you can point to specific situations or examples where you feel your job performance or personal interactions are strong or could continue to use work. Try to focus a weakness on a non-essential skill or something you have already concretely improved so you do not distract from your ability to do this job.
Why do you want to work here? This is your chance to show how prepared you are for the interview. Give a detailed response about the company, the role you seek and how you see yourself fitting into the company and solving problems for them. Do your research ahead of time so you are prepared to describe yourself fitting into the company seamlessly.
Questions About Your Work Experience
Your work experience will reveal your skills and abilities as they apply to this new role. Make sure you study the job description for keywords and also research the company extensively so you can directly apply your previous experiences to highlight how well you will fit into this position. Some examples of common work experience questions include the following:
Why did you leave your last job or why do you want to leave your current job? This is a chance for you to explain circumstances surrounding your unemployment or other questions from your resume. Do not talk badly about former employers or coworkers, but you can explain your situation with a positive spin on new opportunities.
What accomplishment are you proud of? Feel free to highlight your favorite project or product here and talk about what you did to achieve your goals. Relate it to the role you are applying for.
What would be most/least challenging about this job? Try to offer specific skills that are not crucial to the role as the most challenging aspect and include how you intend to improve in that area. Do not make the least challenging aspect sound boring, instead focus on how much you enjoy applying that particularly solid skill you have.
Questions About Your Qualifications and Work Style
Your qualifications include your previous work accomplishments and your education, but they also reflect your work style and how you interact with coworkers and management. The interviewer will want to better understand how you might fit into the day-to-day operations at the company by asking the following questions:
What three things would your former boss say about you? This is an additional moment to show your applicable abilities, your positive interactions with coworkers and management or your overall professionalism. It can sometimes be easier to quote someone else's praise, so use this opportunity to mention what your boss has praised you for in the past.
What motivates you? The interviewer wants to understand what parts of the job you will enjoy and how you will push yourself to achieve more. Have an anecdote ready and apply it directly to this specific role and how motivated you will feel.
What sets you apart from other candidates? This is another chance to highlight your unique strengths and attributes that match the job description and company ethos. Try to show how you will fit into the role and into the company easily.
Questions About Your Future
The interviewer wants to know your long-term goals and plans to make the best decision on behalf of the company. Someone who looks like a career hire, meaning someone who will work for years at the company and show loyalty and longevity, is more likely to be hired over the more transient worker who never stays at a job for more than one year. Here are some common questions related to your future plans:
Where do you see yourself in 5 or 10 years? This is incredibly common so make sure you have a solid response. This plan should be honest and should include your professional and personal goals. Highlighting that you intend to buy a home locally or otherwise invest locally shows potential long-term commitment. This is a chance to show the interviewer that you have done a self-assessment and considered different career paths to determine that this is the right one for you.
What are your goals? Your response can cover short- and long-term goals, but should focus on the company and how you can help solve their immediate or long-term problems. This is not the time to mention that you want to go back to school soon, but you can allude to wanting greater responsibility down the line.
What is important to you in your next job? Here is your chance to explain why this particular company or this particular role will give you the chance to accomplish your goals or to hone your skills. Find the overlaps between the job description and your own aspirations. Highlight how your goals match what the company is looking for in filling this position.
By Admin –