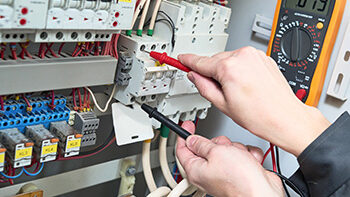 A careen as an electrician can be incredibly rewarding as jobs within this industry offer high income, advancement opportunities and a growing job market. If you are interested in becoming an electrician, it is first important to familiarize yourself with the types of electricians, as each type of electrician performs different duties.
The most common classifications of electricians include a residential wireman, an inside wireman, a telecommunications technician and an outside lineman. Electricians are required to go through extensive training including courses through a trade school or college and apprenticeship. Electricians are also required to obtain certification through their state. To learn more about the electrician careers that may be available to you and how you can further yourself in your career early on, you can review the information below.
What does an electrician do?
Nearly every part of our lives has some sort of electrical component. Broadband systems, transportation grids, office buildings and even the lights within our home are essential to work and home life and electricians are a key factor to all of this. What does an electrician do, more specifically? While there are a variety of types of electricians, most electricians perform tasks such as:
Read blueprints.
Install, maintain and repair electrical systems, including wiring and transformers.
Utilize testing devices in order to find circuitry problems within a home or business.
Follow the National Electric Code, including all state and local building regulations.
While most electricians work for an employer, there are a great deal of electricians who are self-employed, often starting their own business and taking on contracts for residential and commercial buildings. While electricians require a lot of classroom and on-the-job training in order to earn their certification, an electrician career comes with a hefty salary. In 2023, the average income for an electrician within the United States was a little over $60,000 a year.
Not only that, but there is currently a fantastic job outlook for electricians. In fact, the industry is expected to grow by 7 percent in the next five years. While the country has begun to utilize more renewable, clean energy – the amount of electricity that is used has only grown, making this industry one that is expected to continue to grow.
If you aspire to become an electrician, it is important to be aware of general requirements. Some basic requirements include:
You must be at least 18 years of age
You must obtain either a GED or high school diploma
You must have a qualifying score on a trade school's aptitude test
Additionally, it is important to have a clean record in order to maximize your chances of being hired. Since you will need to be insured, and it will be riskier for a company to do so if you have a felony record of any time, certain misdemeanor convictions and even too many speeding tickets. Therefore, it is important to keep your criminal and driving records as clean as possible.
The Types of Electricians
If you are interested in becoming an electrician, it is important to be aware of the different types of electrician positions that may be available to you.
A residential wireman is an electrician that installs initial wiring throughout both private homes and multi-family homes and units. They install electrical systems as new houses are being built and can perform maintenance and repair issues for homes after they have been built. Since a residential wireman primarily works in homes, it is important to have a clear understand of both state and local building and electrical codes. A residential wireman must also remain complaint with all local power regulations and ensure that each dwelling has all the energy it might need. Most electricians will begin their careers as residential wireman and they can branch out into other types of electricians and industrial careers.
An inside wireman is similar to a residential wireman, with one key difference. Rather than work in a residential setting, inside wireman will generally work on commercial buildings and industrial structures. During the construction phase of a building, inside wireman will also establish temporary power. Once construction has neared completion, the inside wireman will install new wiring and connect that wiring to other systems such as heating, venting and cooling systems. They are also the type of electrician that install security systems, fire alarms and maintain a building's power system after work has been completed.
Telecommunication technicians are another form of electrician, only these electricians are in charge of installing the low-voltage wiring within a building. This can include phone lines, computer cables, security systems and access control systems. Telecommunication technicians will often work with either inside wireman or residential wireman, depending on the job.
Outside linemen are responsible for the installation and maintenance of the distribution lines outside of your home. These lines are what bring electricity from a power plant to a building. They are found either underground, above ground or on utility poles. Work is often done outdoors and the work can be challenging, but the pay is generally very high in comparison to other types of electricians.
Get a Head Start in Education
If you are still in high school, you can take in order to better prepare yourself for a career as an electrician. If you would like to become an electrician in the future, you can go into the industry with a leg up by taking courses such as:
Algebra.
Geometry.
Physics.
Chemistry.
Workshop.
English.
Mechanical drawing.
If you are interested in potentially becoming an engineer, consider taking one or more of these classes.
Earn an Electrician's Certificate or an Associate's Degree
You will need to earn your certification or degree through a technical school or community college before you can take on an apprenticeship. Electrician courses generally address electrical theory, electrical drafting and the national electrical code. Associate degree programs will likely also include general education courses and will take longer than attending class in a trade school. Certifications may be earned in trade schools in a year or less while associate's degrees will typically take two years to complete.
Complete an Apprenticeship
Once you have completed all necessary education, you will need to take on an industry-sponsored apprenticeship where you will work as an electrician under the guide of a journeyman or master electrician. An apprentice will take about four years to complete and is composed of 2,000 hours of on-the-job training as well as 144 hours in a classroom like setting. In some cases, credits that are earned through trade school or an associate's degree program may be applied towards required hourly amounts. In order to find a sponsored apprenticeship within your area, you can contact the Office of Apprenticeships Sponsors website.
Obtaining a License
Most states require that an electrician obtain a license. Additionally, states that require a license will require you to renew that license within a set period of time in order to maintain it. In order to obtain a license, you may have to complete a written exam and/or a practical exam. A majority of the written exam will cover the National Electrical Code and common electrical knowledge. Upon obtaining an electrician's license, you will be considered a journeyman electrician.
Becoming a Master Electrician
Once you begin your work as a journeyman electrician, you can advance in your career and earn the title of master electrician by accumulating a specific number of years and hours of experience within the industry. During this time, you may choose to pursue a career as one of the many types of electricians. Many of these will require that you obtain a specialty license, which will require additional work experience, education and additional examinations in order to obtain. While there are many electricians who are satisfied with being a journeyman, master electricians have far more career options and can generally earn a higher salary. In order to qualify as a master electrician, you will generally need to:
Apply with local jurisdictions.
Accumulate between four and eight years of experience as an electrician, as well as experience towards your desired industry.
Submit letters of reference from previous clients.
Apply for the master electrician examination.
Should you choose to take your career one step further, you can work towards an independent contractor after receiving your master electrician license.