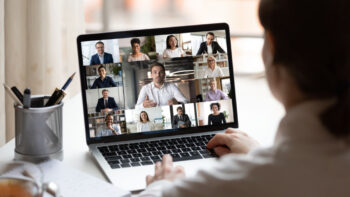 Remote work rose in popularity during the pandemic, and was still very popular in 2022. The trend appears to continue through many career fields for 2023.
While working from home has its set of benefits, there is one drawback that seems prevalent no matter what area you work in: the lack of human connection.
Conference call technology has made it possible to connect with coworkers around the world, but a virtual connection doesn't always cut it. Things can get lost in translation via email or chat, and seeing peers through a screen can make some workers feel isolated or alone.
Fortunately, there are a few tips and tricks you can use to make socializing with your coworkers feel more natural.
Connect After Hours
Chatting with your coworkers through a video conference call can feel a bit more personal when it does not revolve around work. If you work in another state or country from your colleagues, schedule an after-hours video call to chat about topics unrelated to work.
Video conferencing is very common in remote work, but it's usually only done for staff meetings or other business-related events. You can switch up your environment or outfit to take the video chat from work mode to relax mode.
You can even step out to your local coffee shop with your laptop in tow to make it feel like you are grabbing coffee with a coworker.
Sometimes, all it takes is a bit of extra effort on both parts to overcome the distance in a more personal manner.
Partake in a Group Chat
Do you enjoy getting funny jokes or memes to your phone? Consider starting a group chat with a few coworkers you get along with.
The purpose of the chat should be strictly fun – no work-related messages allowed! With everyone's consent of course, you can consider sending:
Pictures of your pets.
Holiday greetings.
Funny posts or memes.
A joke of the day.
A question of the week.
It's important to feel connected to your coworkers in subjects other than topics you discuss in your workday.
Host a Virtual Game Night
Looking for something different to do with your remote coworkers? Consider hosting a game night!
There are plenty of games you can play over the phone or video call. For example, with the help of a coworker, you can create trivia questions of various levels and topics.
There are also some apps and software programs that you can use to generate fun questions and games. Houseparty is a popular app that features several games you can play virtually, like Heads Up and Trivia.
By Admin –